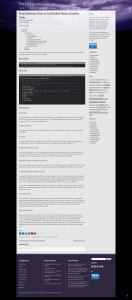 Made a new theme for this site. Nothing super fancy. Basically just a Saturday project. I like purple and I like storms. I figured since this thing has been here almost a year, it was maybe a pretty good time to create an actual custom theme rather than relying on twentythirteen and slightly modified children.
Built on Underscores with Waypoints, Sass, Grunt, Bourbon, and Neat. Thanks to jpaxonreyes@Flickr for the great header photo!
Feedback welcome and appreciated!