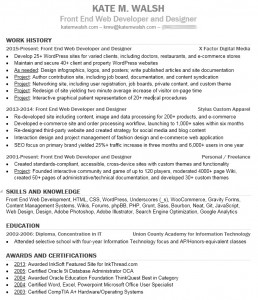 So! It looks like my job is moving to Wayne, New Jersey. We're currently in Kenilworth. The thing is — they can't take me with them! Only a few employees are moving on to Wayne. So it looks like I'm looking for a job again after only ten months — not where I wanted to be!
It makes me sad because I really like my coworkers (wrote two of them recommendations on LinkedIn!), everyone I work with is awesome. I also really liked doing what I did, of course… but that's just the nature of contract work, too.
Here's to awesome new opportunities!
More About Me
I've updated my Resume, Portfolio, LinkedIn, Indeed, and Monster. I've sent out a few applications as well from trawling through Indeed, LinkedIn, and Monster.
Not bad for ten hours after hearing the news! ;)
What I'm Looking For
Interview: ASAP
Start: November 1 or later
Roles: Front end web developer, WordPress developer, web designer
Locations: Northern New Jersey (especially Elizabeth, Union County, Newark, Jersey City), New York City, Remote
Preferred Job Types: Full-time or contract (part-time considered with 20+ guaranteed hours per week)
Preferred Job Perks: Health insurance, 401K matching, flexible hours or full/part-time work-from-home
Contact
E-mail me for the fastest response. Thanks for looking!