Upgraded my computer! Actually since my last hardware post I've pretty much replaced most of my computer…
ASUS CM1740 MicroATX Case
AMD A4-3400 APU (2.7 GHz)
+ EVGA 500B 500W 80PLUS Bronze Certified ATX12V/EPS12V 500W Power Supply
Western Digital Caviar SE 160 GB — Dead after 58448 hours and change powered on. Was starting to run way hot. It was at 58 degrees for absolutely no reason when I noticed and decided it had to go. :(
6 GB DDR3 RAM — Mismatched sticks, a 4 GB and a 2 GB.
Western Digital Caviar Blue 500 GB
Windows 7 Home Premium
CD-RW/DVD Drive
+ Thermaltake Versa H22 Mid-ATX Case
+ AMD A8-3870K APU with AMD Radeon 6550 HD 3.0GHz Quad-Core Processor
+ Crucial Ballistix Sport 16GB Kit (8GBx2) DDR3
+ MSI R9 390 GAMING 8G Graphics Card
+ EVGA SuperNOVA 750 G2 80+ GOLD, 750W ECO Mode Fully Modular Power Supply
+ Crucial BX100 250GB SATA 2.5 Inch Internal Solid State Drive

The motherboard isn't even original since that was also replaced when I bought it — it is still the one that comes with the stock computer though. So… the only part in there that originally came from the CM1740 is the CD drive.
Why the Upgrades?
What was a slow computer back in January is in great shape now. I did the processor, SSD, and PSU at the same time in April or thereabouts. I just did the RAM, graphics card, case, and PSU again now… because Fallout 4.
Had I known back when I upgraded my CPU that there would be a new Fallout this year, my decision back then might have been very different. The original reason I upgraded was because things were slowing down. That was in April. If I had known there was a Fallout coming out this year I probably would have bought/built a whole new computer.
Oh well — Fallout is the only modern game I really care to run, and I'm fairly confident this system will do it. I will probably get medium Fallout 4 out of what I have now and that's good enough for me! Medium Fallout 4 is still Fallout 4 and I would totally play it in blocky pixel graphics if I have to.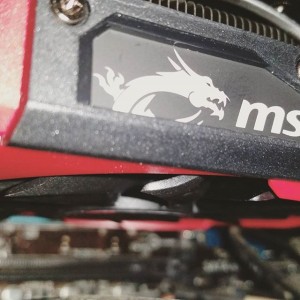 The only thing I have now that's under the recommended specs is my processor, and at that just barely under the AMD recommended processor. I'm hoping the doubling of RAM and kick-ass graphics card will be enough.
Who knows — I can do GTA V on high everything without a problem right now, Fallout 4 on high might be within reach… gasp.
Plus, now the only real upgrades I'd need to do anytime soon are the processor and motherboard — neither of which will be necessary for another 2-3 years hopefully. The PSU, graphics card, RAM, and case can almost certainly follow me through to another build.
I think I am gonna call my new-ish computer Charon after my favorite Fallout 3 follower. :D
Mistakes!
Laptop SSD
I did accidentally a laptop-sized SSD… but I think the 2.5s are normal anyway. And that didn't matter once I also got a mounting bracket for the CM1740 case, and it didn't matter at all in the Thermaltake case as it had 2.5 inch slots.
Power Supply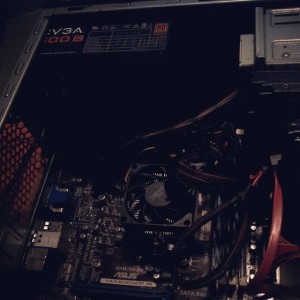 But — I definitely should've bought a larger and fully modular PSU when I first did the upgrades. This was a $50 mistake for sure.
I had to upgrade my PSU from the stock one in the CM1740 to run the A8 processor; at 100 watts, it was too much for my old PSU to handle for sure. Especially given that it wasn't any kind of brand.
So I needed a PSU upgrade back in April. I could have been smart about it, but I went cheap with the non-modular EVGA 500 watt. I didn't anticipate adding a graphics card, unfortunately — certainly not one with as much power as the R9 needs.
So because of going cheap… I wound up promptly needing to upgrade again — the R9 apparently recommends a 750 watt minimum power supply. Dang.
But hey, the R9 totally ran on a 500 watt power supply — with my 100 watt A8, 16 GB RAM, HDD, SSD, and CD drive (>__>). I pulled it until the bigger power supply arrived, but it did run…
And, offsetting the financial loss on the 500 watt — I was able to find a use for it very quickly!
Friend's Computer
My friend had bought an MSI graphics card — a GTX 750 Ti — but he never wound up putting it into his case. Because I was yammering a lot about hardware and such, he took the opportunity to get me to put that upgrade into his case. So that's where the 500 watt power supply wound up — because the little stock 300 watt PSU probably would not have been enough.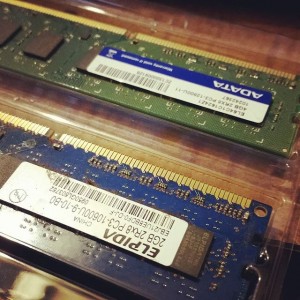 Because I was already in there, too, I threw my old 4 GB stick of RAM into his computer to bump him to 12 GB. I've always been sort of weirded out by mismatched RAM sticks, but I've also pretty much used mismatched sticks forever, from my first computer all the way through to the CM1740 until I upgraded that. /shrug
Here's the thing… the computer he has is an HP Pavilion 500-214. I swear this case was purposefully made to make upgrades difficult:
The PSU was semi-supported by this weird angled piece of metal, that made both removing the stock PSU and putting in the EVGA five times more difficult than it needed to be.
Couldn't seem to take the one half of the case off, even. It was riveted on or something, not screw-on?! I guess that doesn't really matter, given that the back of the case on the inside was solid metal too and there was nothing to access back there… but I dunno. Just made things even more awkward and weird in this case.
The hard drive bracket… thing is a piece metal that covers fully a third of the case. That made getting the graphics card in ridiculously difficult. I had to strip the CPU cooler and the hard drive out to get the graphics card in place, and it was still a just-barely-there fit. Just a little bigger of a card and we wouldn't have gotten it in.
So yeah. What should have been an easy job — PSU, graphics card, and RAM — wound up being pretty difficult. We were at one point considering taking everything out of the Pavilion case and using my CM1740 case, now stripped bare — but it didn't come to that, thankfully!
We might still go ahead and replace the case, though… because when I was running Open Hardware Monitor his CPU seemed to be running really hot. It hit 77 degrees, over the max operating temperature for his AMD A8 (different than mine but I don't remember exactly which) when running H1Z1.
I replaced the thermal paste, and hopefully that'll help — but if not we'll go for a new case with better airflow and a new CPU cooler. Honestly for the ~$50 I paid for my Thermaltake case, it's worth upgrading just to never have to deal with the Pavilion case again~
Things and Programs and Junk That Helped
Other Upgrades
Phone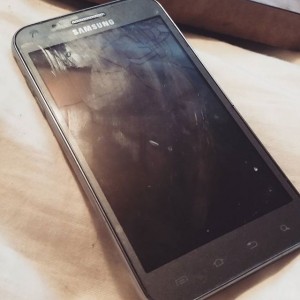 My S2 died back in the summer. Funny story: I drove my mom's truck down to Atlantic City. The transmission on the truck died on the Garden State Parkway on the way back north. Thankfully, my mom and neighbors were behind me, so it wasn't quite as bad as it could be! It still sucked though.
Sucked more when I realized, on getting into my neighbor's car, my phone was gone. Turns out it was beside the parkway, according to Lookout (neat Android app, has a "find my phone" type feature). Yeeeep. Over an hour away from me, on the side of the parkway.
So I started hunting around, and found one of my friends — an online friend whom I'd never met before, but who lived in the same area as me — was down in south Jersey the same day.
I asked her to stop where my car was stopped, and gave her a screenshot of the Lookout map, as well as a still shot of the dashcam from right where we stopped on the highway (yay dashcams!). And she… found my phone! And brought it back to me!
Unfortunately, it looks like it either got ran over by the back tire, stepped on by a tow truck operator, or simply fried and cracked in the July heat. The screen was all shattered and it didn't want to turn on anymore. But honestly, I didn't even care — it was just ridiculously reliving knowing my data wasn't out there, floating in the world (phone died before I could Lookout wipe it).
So, no more S2. Upgraded to a Galaxy S5 and switched from Virgin Mobile to Boost. Could not find any phones on Virgin Mobile aside from iPhones and $50 cheap phones, so I made the switch.
Tablet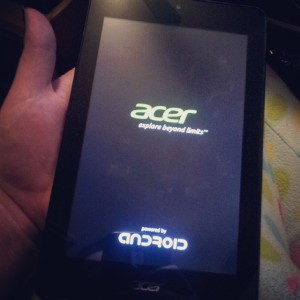 Because I was really unhappy with the screen and performance of the $50 tablet I bought, I went with an Acer Iconia 7. I got it on sale for maybe $80 which was great.
It's still basically a responsive design checking device. And since Chrome does a pretty good job emulating most of the time, the Iconia only gets used for final round testing.
Still useful to have, though — and I'll appreciate it if I ever have any kind of train commute!
ThinkPad T510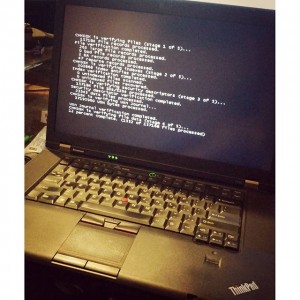 This isn't really my upgrade! I bought this for my sister because I got it on the cheap — $100 secondhand!
I knew she needed a new laptop. Her old HP was in really rough shape — it already had a hard drive die on it (I replaced that with one from my boyfriend's old laptop, which had no screen and needed an external monitor to work). It's also been making really bad sounds from the fan for a really long time, and one of the screen hinges is broken. For a ~2008 laptop, it's survived fairly well, but it was definitely time.
So I got her this, rescued a ton of her old music from a circa ~2004 eMachines Windows XP machine, and put it all on an old iPod she'd been bugging me to fix and fill with her music. Good weekend for her!